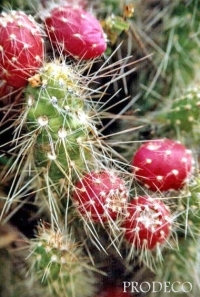 Ayrampo
- botanical name 'Tunilla soehrensii' - is a species of the genus Tunilla, which is a sister genus of the much more common genus of the Opuntia, known as 'prickly pears', 'nopalea', 'tunas' or 'paddle cactuses'. Same as the Opuntia the Tunilla have their own 'prickly pears' (English) or 'Kaktusfeigen' (German). In Spanish there exist various names: 'nopales' (North-America), 'tunas' (South-America) and 'higos chumbos' (Spain) for the fruits of the tribe of Opuntieae. However mostly all these names refer to the fruits of the Indian Fig Opuntia (O. ficus-indica), which is only one certain species of the sister genus of the Opuntia.
The botanist Alberto Vojtěch Frič named the genus of the Tunilla 'Airampoa'. Sources state the name 'Ayrampo' to be of Quechuan origin
[1]
[8]
. Therefor several other transcriptions exist, like "Ayranpu
[7]
[8]
",  "Haranpu
[8]
", "Ayrampu
[6]
", "Airampo
[2]
[3]
[6]
", "Airampu
[9]
" or "Irampo
[1]
".
Habitat 
Ayrampo is an endemic species in the south of Peru, Bolivia, north of Chile and the north of Argentina in heights above 3'000m
[5]
. It grows strongest between 3'300 and 4'000m.
[5]
Human usage of Ayrampo
Technical use
The flower and fruit are natural dyes, having a dark carmine color used for dying fibers like wool.
[2]
[5]
[6]
[9]
Culinary use
Medical use
Antiphlogistic
The infusion is also a treatment against inflammations [5] of mucous membranes, like conjunctivitis (extertanally) [4] [6] [8] or ulcers like aphths (recurring oral aphthae and recurrent aphthous ulceration) [1] [4] [6] or peptic ulcers [2].
Laxative
The juice of the quenched cladodes has a purgative effect. [1]